Most Trusted Play School & Day Care in South Delhi over the last 16 Years
Founder's Message
Dear Parents,
My heartfelt gratitude to all of you for enabling the expansion of Anubhav family. Each year has been an year of victory for us not only in statistical terms but victory in further strengthening our values – staying united in spirit, maintaining the youthful spirit, developing the courageous and compassionate heart. True victory to us is winning each day over our negativities and shortcomings. The happiest moments are not those of our own successes but when someone tells us that we have made a positive contribution to their life. Let us be judged by our actions.
The three qualities which as a team at Anubhav we have imbibed and are instilling in our children are- the strong will/resolve to surmount every obstacle; courage to rise to every challenge with the fearless spirit; the sincerity to do our very best and win the trust of others.
Our services have been very well received. It has facilitated us to connect with our alumni and has added strength to our voice. Our voice is a reflection of our heart, our spirit. A powerful voice can broaden people's mind. A warm voice can open other's hearts. Courageous voices spur breakthroughs. Hope filled voices create momentum. So, let us stay connected so that our collective voices become a source of positive change in our environment. To quote Florence Nightingale, the founder of modern nursing, "The world is what we have to mould, not to fly from".
A single person of wisdom
firmly rooted in society
has a value and significance
equivalent to a thousand or even ten thousand people
As educators and parents let us continually encourage and inspire our children and make them proud by our great deeds.
Warm Regards
Dr. Neena Gulabani
Dr. Neena Gulabani
Founder
A Doctorate with nearly 30 years of professional journey building people's capacities, through guiding, coaching and training. Having closely worked with young children and young parents she has effectively connected and impacted people across generations. She is a certified SAHHEAL healing life coach and a "CORPORitual Heal Your Living" trainer. She has offered counselling services to hundreds of individuals and families. An active Rotarian, she is the Past President of Rotary Club of New Delhi. She has touched the lives of hundreds of students through workshops in schools and colleges. She has also taken up courses of Master Del Pe on Just Be Alive, seven cycles of life, meditation and chakra healing.
She initiated her professional journey in 1988 as a Women Development Specialist with Indo Canadian Project, helping women recognize, acknowledge, and appreciate their identity and inherent power to endure and contribute to society. She had an accomplishing stint as an educator with Delhi University and Jamia Millia Islamia, teaching undergraduates and Post Graduates. She has guided and trained masters reseach and published papers. As an independent consultant, she has worked on social development, environment projects with NGOs, Delhi Govenment, Central Ministries, and International agencies like UNDP, World Bank- Water and Sanitation Program, JICA, DANIDA, etc. She is on Ambedkar University's panel of consultants of School of Vocational Studies program of Early Childhood Centre Managemnet and Entrepreneurship.
Well read and extensively travelled, she practices her learning. An epitome of a balanced life, she has invested heavily in self development and building her capabilities to enhance the value of her contribution to society. A visionary with immense depth, she has worked to fulfil her purpose of life with a clear focus and flow. She realized the significance of contributing to society through education which made her set up Anubhav Learning Centre, a foundation school focussing on early childhood education and child care following humanistic philosophy of education in 2003.
Very early in life she realized the significance of having a mentor in life and had the good fortune of being guided by internationally renowned masters and mentors. She is a staunch practioner of Nichiren Daishonin's Buddhism and practices the teachings of her mentor Dr. Daisaku Ikeda.
Ramesh Gulabani
Co Founder & Partner
An Engineer with Sales and Marketing Diploma and with 40 years of accomplished corporate career heading sales, service and operations of multinationals, he is a great organiser, meticulous planner and is perfect at executing high end projects with an eye for detail. He is  priveliged to be associated with top international and Indian brands – Toyota, Mitsubishi, Daewoo, Nissan, Maruti, DCM, Escorts etc. and has worked overseas for 7 years. A passionate traveller, he has seen the length and breadth of India and visited many countries across the continent – Oman, Dubai, South Africa,  Japan, Malaysia, Singapore, Russia, USA, Switzerland, Denmark, Sweden, Germany, Australia, Abu Dabi, Hong kong, Korea, Thailand, etc, both on work and vacation.  Resultantly, he has  developed a great understanding and appreciation of various cultures. 
To extend his personal and professional touch to the travel plans of tourists, he founded  Love My India ( www.lovemyindia.com)
By  co founding Anubhav Learning Centre, he has wholeheartedly  supported his wife's passion of working for the happiness of children through value based education.
Bhavna Thakur
Centre Manager
She is an MBA in Finance and Marketing and has earned double graduation in Education and Arts with Diploma in Computer Application. With  18 years long corporate career behind her, she has worked with big Corporate giants – Airtel and Tata. Her last profile was of a Deputy Manager. Her key expertise has been Customer Experience Management, Revenue Enhancement & Retail Service Management. 
Her managerial, administratve, accounting  and people management skills are fabulous. She has many corporate awards to her credit.
Won

Star of the month

award Twelve times at TATA Indicom from 2006 till 2017.
Received  

Achiever's club Award for successful project on alternate payment options across TATA in Sep 2017.
Received Best Zone Team Member Award in December 2014.
Received "Bravo Award" for successful project of reducing TTRB stores.
Received Spotlight Award

Eight times at TATA in December 2010, January 2011, June 2012, Dec 2012, March 2013 and Sept 2013, Feb 2015, Jan 2016
Got

TTL Hi- Flier Award

in Mar, June, Sep & Dec 2016
She initiated her journey with Anubhav learning Centre 6 years ago as a parent. She is a hard core professional yet very humble and friendly.
Neeru Sehgal
Pre School Educator
The compassionate, kind hearted and ever smiling Neeru has been an integral part of Anubhav Play School since 2005. She is the senior most Pre School educator who is superb at settling even the most difficult children and is an epitome of gentleness and perseverance. She graduated from Delhi University with Nursery Teachers Training from South Delhi Polytechnic. She chose to be a Preschool educator owing to her passion for young children. She initiated her career in 1999 and worked with Shemrock Pre School in south Delhi for 6 years.
She is trained in "handwriting improvement", "integrating differently abled children", and "7 personality types". She has undergone several training sessions to hone her professional skills. Some of them are "Action for Autism" on identifying autism, integrating autistic children; "Just Be Alive" by Moni Plat,  CORPORitual way of living by Dr Neena Gulabani, Neurotherapy techniques for pain relief by Acharya Dixit and Parenting Techniques by Dr. Priti Dhawan, Professor, Lady Sriram College, etc.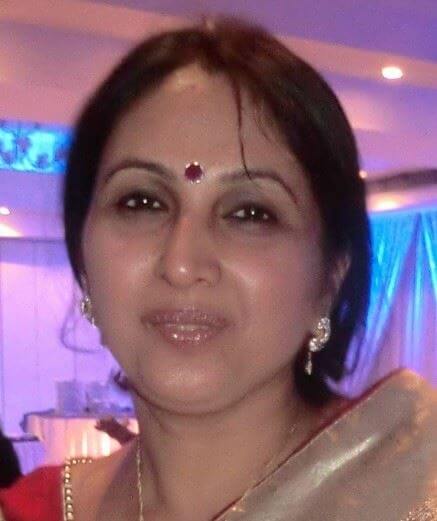 Meeta Roy
Day Care Incharge
The loving, caring and disciplined Meeta, is the Day Care Head. She has been with Anubhav Day Care since 2008. Her story telling skills are fabulous. She is great at managing children of all age groups. A stickler for cleanliness, she has raised the hygiene bar for our staff and children. Her green hands have worked wonders outdoors that are pretty evident.  She is very swift in work and can multitask. She exhibits simplicity and elegance.
With her schooling from Lady Irwin and graduation from Miranda House, she received her Montessori training from Mira Nursery where she also worked for 7 years. She was rigorously trained in story telling skills and learnt to be an effective educator. She has attended various training sessions on seven personality types, effective parenting, Just Be Alive , Neurotherapy and CORPORitual way of living.
Sharmila Bannerjee
Pre School Educator
An English language expert, Sharmila Banerjee is a disciplinarian, a fighter and a perfectionist. Hailing from a highly educated and a politically active family of Shillong, she carries a very royal legacy. She has the unique ability to work with children across ages. The strength of her language skill has helped the pre-school children learn to comprehend and express in English. She has over 30 years of experience in pre-school and senior school education and has been associated with Anubhav Play School for the past 11 years.
She was born and brought up in Shillong- Meghalaya and did her schooling from Loreto Convent. She graduated in English from St. Mary's College, North Eastern Hill University, Shillong. She did Montessori Training Course from Pratt Memorial and Senior Teachers Training Course through correspondence from Dr. B.C. Roy College of Education.
After working for 10 years as an elementary English teacher in Better High school, Kolkata, she moved to Delhi in 1996. She feels fortunate to have worked with Pediatrician, Dr. Amita Rani for ten years in her Child Care Centre, 'A Child's Wonderland' in South Delhi. She also did a two year stint at 'Magic Years', a preschool in Vasant Vihar.
She attended various training sessions on seven personality types, effective parenting, Just Be Alive , Neurotherapy and CORPORitual way of living.
Kiran Gaur
Day care Educator
A very sincere, calm, composed, balanced and charming person who is an epitome of perseverance, Kiran is a young educator who has never lost her cool with children. She has been with Anubhav Day Care as an educator since 2016, helping with after school academics. She has a magical impact on children; motivating and inspiring even those kids who disliked academics.
A role model student herself, Kiran was her teachers' delight from school through college.  A very self-reliant person, Kiran started to earn while in high school by offering academic support to children in her neighborhood. After her schooling from Sarvodaya Vidyalaya, she graduated from Gargi College, Delhi University. With her Post-Graduation in English from Jamia Millia Islamia University, she is now pursuing her B.Ed.
She loves to paint and sing. She received training in seven personality types and Just Be Alive. Kiran has been an active resource in conducting Anubhav's summer workshops.
Sarika Goenka
Pre School Educator
A very swift, focused, meticulous and ever willing to learn, Sarika is highly adaptable to new environment and a very versatile personality.  Having studied and lived in Mumbai, she spent major part of her married life in Kolkata. She has been with Anubhav Play School as an educator since 2017.
She completed her schooling from Rosemary Garden School, Mumbai and graduated in Science from Mithi Bai college, Mumbai.  She earned a computer diploma from NIIT, Acupressure and Pranic healing certificate courses from Kolkata. Her creative skills include Ikebana (Japanese flower arrangement) and calligraphy.
She has been an entrepreneur in Mumbai where she was managing her own boutique and held many exhibitions for her products. Sarika has been an efficient resource in conducting Anubhav's summer classes for pre-school children.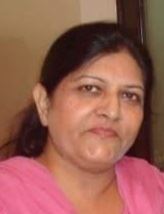 Archana Goswami
Infant & Toddler Group Educator
A very gentle, diligent, and loving educator who has been working with children since 2 decades. A Post Graduate with life skills training, she enjoys creative activities. She is apt at creating teaching aids from waste material.
A grandmom herself, she understands the needs of infants and is able to engage with them well. She closely watches over their moment to moment schedule and ensures correct and timely feeding, toilet training, and organises activities appropriate to their developmental needs. Toddlers raised under her able guidance have shown brilliant performance in pre school and their transition has been smooth.
Seema Kumari
Special Educator
A young, soft spoken, compassionate special educator, she earned her
Diploma in Special Education in Autism from Action for Autism. Very fond of reading and researching on subjects of interest, she is a willing learner. She is superb at creating appropriate customized teaching resources . 
She is very focussed on the needs of her children and is superb at creating child centric curriculum. With simple, clear and straight instructions, she is able to get children to happily engage in activities and improve performance.
A very sincere and hard working educator, she values every moment.
Let Us Clear All Your Doubts